This video demonstrates how obtain a Pap smear for cytologic examination. Pap smears are helpful in detecting cervical cancer and pre-cancerous changes. They are somewhat useful in detecting uterine cancer and of limited use in detecting ovarian cancer.
The free, short version was produced by the US Navy as training for medical personnel in isolated settings. It was included on the Operational Obstetrics & Gynecology CD. It may be freely downloaded.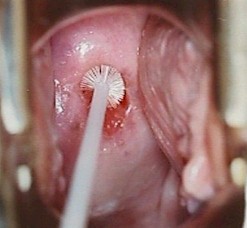 Obtaining a Pap Smear
"Position the patient at the edge of the exam table."
"Inspect the vulva."
"Separate the labia and gently insert the vaginal speculum."
"Lock the speculum in the open position."
"Use a spatula to obtain a 360 degree sample from the cervix."
"Then use a brush to sample the endocervical canal."
"Remove the speculum, inspecting the vaginal walls."
"Try to keep the speculum blades from coming together too quickly, pinching the skin."
"Spread the specimen on a glass slide, making as thin a preparation as you can."
"Spray the slides immediately with fixative to avoid drying artifact."