This video demonstrates how to administer a spinal anesthetic to a patient.
This free video was produced by the US Navy as training for medical personnel in isolated settings. It was included on the Operational Obstetrics & Gynecology CD. It may be freely downloaded.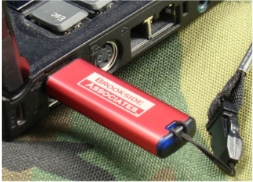 Operational Medicine Mark II
100 Operational Medicine Textbooks/Manuals
Over 100 Operational Medicine Videos
55 Continuing Education Courses
Operational Medicine 2001
Military OB-GYN
4 GB Thumb Drive

"Prepare the back with antiseptic."

"Place a sterile drape over the area."

"Identify the landmarks."

"Inject local anesthetic into the skin and deeper tissues."

"Insert the large, introducer needle into the selected spine interspace."

"Direct the spinal needle through the introducer and into the subarachnoid space."

"Free flow of spinal fluid confirms proper placement."

"Aspirate for blood, then inject the selected anesthetic."

"Remove the needle, introducer, and drape sheet."

Have the patient lie down."