This video shows a chocolate cyst of the ovary during laparoscopy. These common ovarian cysts are often found with endometriosis or other hemorrhagic conditions within the ovary.
This free video was produced by the US Navy as training for medical personnel in isolated settings. It was included on the Operational Obstetrics & Gynecology CD. It may be freely downloaded.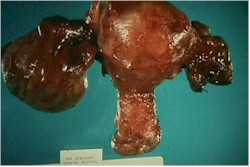 Chocolate cyst of the ovary due to endometriosis
"Through the laparoscope, the right fallopian tube can be seen."
"The right ovary underlies it and the uterus is seen above it."
"With surgical manipulation, the ovary ruptures, spilling old, dark blood."
"Because the old blood resembles chocolate, this is called a 'chocolate cyst.'"
"Most chocolate cysts are caused by endometriosis, but any chronic bleeding within the ovary can be responsible."