Pelvic examinations during labor are used for several purposes, among them assessment of cervical dilatation, effacement, station of the presenting part, presentation, position, and pelvic capacity.

Instruction in these techniques is particularly important for those health care providers involved in labor management, including physicians, nurses, midwives, paramedics and EMT personnel.

The short, free video provides an introduction to this technique. The longer, 5-minute video demonstrates these techniques, using live patients, models and graphics.

Pelvic Exam During Labor Runtime 0:29 Min
1.4 MB wmv
Download Now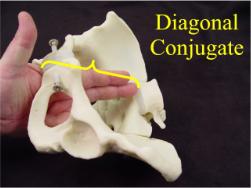 Using sterile gloves and lubricant, perform a vaginal exam and determine the dilatation and effacement of the cervix. A small amount of bleeding during the days or hours leading up to the onset of labor is common and called "bloody show."
Print a Cervical Dilatation Chart
Dilatation is expressed in centimeters. I have relatively large fingers, and for my hands, I make the following generalizations:
1.5 cm: One finger fits tightly through the cervix and touches the fetal head.
2.0 cm: One finger fits loosely inside the cervix, but I can't fit two fingers in.
3.0 cm: Two fingers fit tightly inside the cervix.
4.0 cm: Two fingers fit loosely inside the cervix.
6.0 cm: There is still 2 cm of cervix still palpable on both sides of the cervix.
8.0 cm: There is only 1 cm of cervix still palpable on both sides of the cervix.
9.0 cm: Not even 1 cm of cervix is left laterally, or there is only an anterior lip of cervix.
10.0 cm: I can't feel any cervix anywhere around the fetal head.
Effacement is easiest to measure in terms of centimeters of thickness, ie., 1 cm thick, 1.5 cm thick, etc. Alternatively, you may express the thickness in percent of an uneffaced cervix...ie, 50%, 90%, etc. This expression presumes a good knowledge of what an uneffaced cervix should feel like.