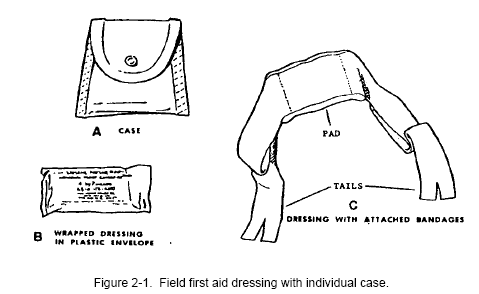 TABLE OF CONTENTS
1 TRIAGE
Exercises
2 CONTROLLING BLEEDING FROM AN EXTREMITY
Section I. General

Section II. Controlling External Bleeding From a Wound on an Extremity

Section III. Applying an Improvised Tourniquet

Section IV. Controlling Bleeding From an Amputation

Section V. Treating Internal Bleeding in an Extremity

Exercises
3 TREATING CHEST INJURIES.
Section I. General

Section II. Treating Open Chest Wounds

Section III. Treating Closed Chest Injuries

Exercises
4 TREATING ABDOMINAL INJURIES
Section I. General

Section II. Treating Open Abdominal Wounds

Section III. Treating an Acute Abdomen

Exercises
5 TREATING HEAD INJURIES
Section I. Open and Closed Head Injuries

Section II. Treating Open Head Wounds

Section III. Treating Other Injuries

Exercises
6 TREATING BURNS
Section I. General

Section II. Treating Thermal Burns

Section III. Treating Electrical Burns

Section IV. Treating Chemical Burns

Section V. Treating Radiant Energy Burns

Exercises
7 TREATING HYPOVOLEMIC SHOCK
Exercises
8 TREATING SOFT TISSUE INJURIES
Exercises.
--------------------------
LESSON 1
TRIAGE
1-1. GENERAL
On the modern battlefield, you may have several casualties at the same location who need medical attention. One of your first decisions will be deciding which casualty to treat first. One soldier may have a life- threatening injury requiring prompt treatment if he is to survive. Another may have a minor injury that can be treated by the casualty himself or which can go without treatment for several hours before his condition deteriorates significantly. Another may have injuries so severe you probably would not be able to save his life even if you devoted all of your time and medical resources to his care. You must determine the sequence in which casualties are to be treated in order to do the most good for the most people. You must use a logical method that will maximize the number of survivors and will return to duty those soldiers who are still able to perform combat duties. Triage provides such a system.
1-2. TRIAGE PROCEDURES
Triage means sorting. In general, triage consists of the following steps.
a. Perform a General Survey of the Scene. A general survey of the scene (paragraph 1-3) allows you to locate the casualties and determine how many casualties are present. You should also determine if the casualties must be moved to a place of safety before providing treatment. Determine if other soldiers are available to provide assistance (buddy-aid).
b. Anticipate Types of Injuries. You can anticipate the types of injuries you will most likely find based upon the cause (mechanism) of the injuries.
(1) Parachute (airborne) operations often result in fractured legs and spinal injuries.

(2) Diving accidents often result in head and neck injuries.

(3) Motor vehicle accidents often result in head, neck, chest, and pelvic injuries.

(4) Blunt trauma to the chest often results in fractured ribs, pneumothorax, and hemothorax.
c. Move Casualties to Safety, if Appropriate. If the casualties' lives are in immediate danger (exposed to enemy fire, near a burning vehicle, and so forth) remove the casualties and yourself from the danger before treating the casualties.
If a casualty is near a live electrical power line, remove the casualty from the electrical source before administering treatment. [This and other safety procedures concerning burns are given in Lesson 6.]
d. Perform Primary Surveys. Perform a primary survey (paragraph 1-4) of each casualty.
(1) If you find a condition which immediately threatens the casualty's life and which can be quickly corrected (lack of breathing, massive bleeding from an arm or leg, hypovolemic shock, etc.), stop your survey and treat it immediately. After the condition has been treated, complete your primary survey. Obtain assistance from other soldiers if the military situation permits.

NOTE: Combat lifesavers are nonmedical soldiers who have received training in advanced first aid.

(2) After completing the primary survey on one casualty, perform a primary survey on the next casualty. Continue until a primary survey has been performed on all casualties.
e. Perform Secondary Surveys. Once all immediate life-threatening conditions have been identified and treated, perform secondary surveys (paragraph 1-5) on the casualties as time and the military situation permit.
f. Categorize and Treat Casualties. Categorize the casualties (paragraphs 1-6 and 1-7) and treat accordingly. If a life-threatening condition arises (immediate category), stop the secondary survey or treatment and treat the life-threatening condition immediately.
g. Document Treatment. Initiate a DD Form 1380, U.S. Field Medical Card (FMC), for each casualty. Record the treatment given and observations (vital signs, and so forth).
NOTE: Instructions for preparing the FMC are given in Subcourse MD0920, Medical Records and Sick Call Procedures.
h. Evacuate Casualties. Evacuate casualties who need additional treatment or evaluation. Attach the FMC to the casualty's clothing prior to evacuation. (NOTE: Evacuation procedures are discussed in Subcourse MD0001, Evacuation in the Field.) Casualties who do not require evacuation can be returned to duty or used to assist in treatment and evacuation.