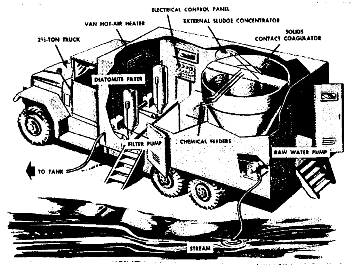 TABLE OF CONTENTS
INTRODUCTION
1 IMPORTANCE AND SCOPE OF MILITARY PREVENTIVE MEDICINE
Exercises
2 THE ARMY IMMUNIZATION PROGRAM
Exercises
3 FIELD FORCES/FIXED INSTALLATION
Section I. Medical Threat to Field Forces

Section II. Preventive Medicine Activities in Fixed Installations

Exercises
4 CLIMATIC INJURY CONTROL
Section I. Environmental Cold Injuries

Section II. Environmental Heat Injuries

Exercises
5 MEDICAL ASPECTS OF WATER SUPPLY
Section I. Introduction

Section II. Principles of Water Purification

Section III. Quartermaster Water Treatment

Exercises
6 FIELD WATER SUPPLY AND WASTE DISPOSAL
Section I. Individual and Unit Water Supply and Purification

Section II. Field Waste Disposal

Section III. Field Sanitary Devices

Exercises
7 MILITARY MEDICAL ENTOMOLOGY FIELD CONTROL
Exercises
8 SEXUALLY TRANSMITTED DISEASES
Section I. The Army's Sexually Transmitted Disease Control Program

Section II. The Epidemiology of Sexually Transmitted Diseases

Section III. Other Sexually Transmitted Diseases

Exercises
------------------------------------------------
LESSON 1
IMPORTANCE AND SCOPE OF MILITARY PREVENTIVE MEDICINE
1-1. BACKGROUND
a. Since earliest recorded history, military leaders have been aware of the devastating effects of diseases upon troops. Around 400 BC, Susruta, an Indian physician, wrote: "All common practice of the enemy under such circumstances is to poison the wells on the roadside, the articles of food, the shade of trees (shadowy places), and the field and forage for cattle. Hence, it is incumbent on a physician marching with troops to inspect, examine, and purify these before using any of them in case they be poisoned." Later, around AD 400, Vegetius, a Roman leader, wrote: "large bodies of troops should not camp too long in any one place, since epidemic disease can arise from corruption of the air and water and can only be prevented by frequent change of camp. Troops should not camp upon dry hillsides devoid of shade and in summer should always be provide with tents. One drink of polluted water may be as potent as poison in starting an epidemic. In periods of great heat, all marching should be done before sunrise. In winter, little can be expected of the soldier if he is allowed to freeze. It is the duty of the commanding officer to provide good water, proper food, and medical attention for the sick." The responsibility of the commander to provide these essentials is still recognized and emphasized today.
b. Some of the greatest fiascos in military history have been the result of a breakdown in hygiene and disease control. For example, when Napoleon Bonaparte sent a force of 22,000 men to suppress a rebellion in the French colony of Haiti in 1803, 20,000 men died from yellow fever. Subsequently, Haiti achieved independence with little French opposition. Again in 1813, Napoleon invaded Russia with an Army of 480,000. Although he succeeded in taking Moscow, his troops were decimated by guerrillas disease, and cold injury, forcing his retreat. Only 10,000 men returned to France. Of the 470,000 men who were lost, only 60,000 were killed in action; the remainder died of disease and cold injury.
c. The American experience has not been greatly different. During the Civil War, twice as many men in both the Union and Confederate armies died from disease as from enemy-inflicted wounds. During the Cuban campaign of the Spanish-American War, the ravages of yellow fever and other diseases accounted for five deaths for every combat death. During World War I, for the first time in history, the ratio of deaths from disease to deaths from combat causes was reduced to 1:1. Although disease is not longer the major cause of death in combat, it is still responsible for an overwhelming majority of the hospital admissions and continues to be a major problem.
1-2. EFFECTS OF DISEASES UPON TROOPS
a. When one speaks of Military Preventive Medicine, it is traditional to give examples of battles, wars, and nations that have been lost because of epidemics. One of the best examples is that of Napoleon's Grand Army which marched into Russia with 480,000 men and retreated back to Paris with only 10,000. Of the 470,000 that did not make it back only 60,000 fell from combat causes. The remaining 410,000 succumbed to disease. Cold injury, caused by the severe Russian winter, accounted for many and a disease called epidemic (louse-borne) typhus accounted for even more. Prior to World War I, the leading cause of death among military troops during wartime was disease.
b. History shows that disease and injury as military problems are factors for which the military leader must plan. In Table 1, the periods of war listed were ones in which combat was the heaviest. In spite of these concentrated fighting periods, hospital admissions for disease and nonbattle injury far exceeded admissions because of hostile action of the enemy. Furthermore, experience reveals that hospital admissions for disease usually exceed hospital admissions for nonbattle injury and battle injury combined. For example, of the 81.8 percent hospital admissions for disease and noncombat injury in Vietnam in 1969, only 13.7 percent were for nonbattle injury and 68.1 percent were for disease.