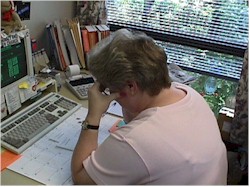 TABLE OF CONTENTS
INTRODUCTION
1 NORMAL/ABNORMAL BEHAVIOR
Exercises
2 BURNOUT, DEPRESSION, AND SUICIDE
Exercises
3 HOSTILITY AND VIOLENT BEHAVIOR
Exercises
4 SUBSTANCE ABUSE
Exercises
5 COMBAT STRESS REACTIONS
Exercises
6 DEATH AND DYING
Exercises
7 SEXUAL ASSAULT
Exercises
--------------------------------
LESSON 1
NORMAL/ABNORMAL BEHAVIOR
1-1. INTRODUCTION
Intense physiological processes are continually taking place in the human body. Any disturbance or change from the delicate homeostatic balances in the body will result in severe consequences for the individual. Correct diagnosis and correct treatment are both necessary to remedy the situation. Just as a physical problem must be corrected, so a psychological problem also must be corrected. It is important to understand and distinguish between physiologically normal processes and those processes which are abnormal. Of just as great importance is the necessity to distinguish between psychologically normal processes and those that are abnormal.
1-2. NORMAL BEHAVIOR
a. Definition. The word behavior can be defined as the manner in which an individual acts or functions. The term normal behavior is a little more difficult to define. The society in which a person lives defines normal behavior for that individual. Additionally, behavior considered normal in one society may be considered totally abnormal in another society. For example, men who sit most of the day staring at the sun are considered to be exhibiting normal behavior in India where such men are believed to be holy. In the United States, the same men would probably be thought to be deranged, perhaps locked up, and/or referred to a psychiatrist. Normal behavior, therefore, can be defined as behavior which is socially acceptable in the individual's society. Another example of normal behavior involves driving an automobile. A driver in the United States automatically drives on the right side of the road (unless otherwise directed)--normal behavior. Driving a car on the right side of the road in England would not be normal behavior since that group of people drive on the left side of the road.
b. Characteristics of Normal Behavior. Although it is very difficult to define normal behavior, it is possible to list some characteristics of normal behavior. An individual who behaves normally has the following attributes:
(1) He is capable of changing his actions as the situation requires.
(2) He has insight into cause and effect. He is able to understand that the cause of his dented car fender was running the red light and, consequently, being hit by another car.
(3) He is oriented to time, place, and person. He may not know the exact date without looking at a calendar, but he does know the month, year, and where he is. His perception of reality is such that he knows who he is (not Napoleon, but Bob Jones, for example).
(4) He may or may not know why he behaves as he does at all times (usually he knows why).
(5) His motivations are purposeful. He does not wander aimlessly through life but is in control of himself and his environment. Major plans may include renting an apartment and then buying a house in the future. More immediate plans may be to go to a movie this weekend with friends for entertainment and relaxation.