CORRESPONDENCE COURSE

U.S. ARMY ACADEMY OF HEALTH SCIENCES

SUBCOURSE MD0920 EDITION 100

MEDICAL RECORDS AND SICK CALL PROCEDURES

As a medical specialist assigned to an Army medical treatment facility or to a field unit, you want to do your best in providing care to your patients. One key to good patient care is communication. Many times this communication takes place through the use of forms, records, and reports.

The physician and other health care providers rely upon the accuracy of the forms that you prepare in determining the treatment that the patient will receive. You rely upon forms completed by other personnel concerning instructions for patient care.

An understanding of medical forms, records, and procedures is needed whether you are working on a nursing unit (ward) of a military hospital, in a clinic, or in a field unit.

----------------------

Length: 120 Pages

Estimated Hours to Complete: 8

Format: PDF file

Size: 4.7 MB

----------------------

Anyone may take this course. However, to receive credit hours, you must be officially enrolled and complete an examination furnished by the Nonresident Instruction Branch at Fort Sam Houston, Texas. Enrollment is normally limited to Department of Defense personnel. Others may apply for enrollment, but acceptance is not guaranteed.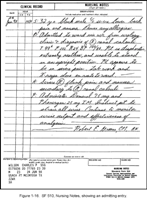 Medical Records and Sick Call Procedures
Distance Learning Course
120 Pages
Est. 8 Hours
4.7 MB pdf file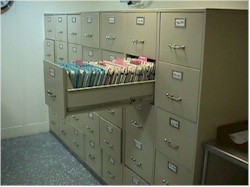 TABLE OF CONTENTS
INTRODUCTION
1 NURSING UNIT FORMS AND THE INPATIENT
TREATMENT RECORD
2 OUTPATIENT RECORDS
Section I. Clinics

Section II. The Health Record

Section III. The Outpatient Treatment Record
3 TERMINAL DIGIT FILING SYSTEM
4 FIELD MEDICAL CARD
5 SICK CALL PROCEDURES