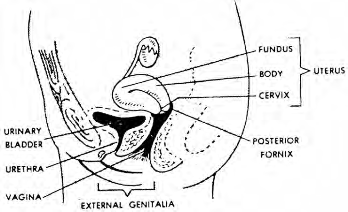 TABLE OF CONTENTS
INTRODUCTION
1 DISEASES/DISORDERS OF THE GENITALIA
Section I. Diseases/Disorders of the Male Genitalia

Section II. Diseases/Disorders of the Female Genitalia

Exercises
2 SEXUALLY TRANSMITTED DISEASES
Section I. General Information

Section II. Specific Types of Sexually Transmitted Diseases

Section III. Laboratory Texts and Procedures

Section IV. The Contact Interview

Exercises
3 HUMAN IMMUNODEFICIENCY VIRUS (HIV) AND ACQUIRED IMMUNE DEFICIENCY SYNDROME (AIDS)
Exercises
4 DIURETICS
Exercises
------------------------------------------
LESSON 1
DISEASES/DISORDERS OF THE GENITALIA
Section I. DISEASES/DISORDERS OF THE MALE GENITALIA
1-1. INTRODUCTION
Diseases and disorders of the genitalia can be dangerous. Such problems are generally agreeable to therapy if the diagnosis can be established. In your later work, you may be assessing and treating these types of diseases and disorders almost on a daily basis.
1-2. PROSTATITIS
The condition prostatitis is an inflammation of the prostate gland. Prostatitis can be divided into two main categories: (1) acute and chronic bacterial prostatitis and (2) nonbacterial prostatitis. The incidence of prostatitis increases with age.
a. Etiology. Bacterial prostatitis is either acute or chronic and is usually caused by gram-negative organisms such as these: Escherichia coli (most common), Enterobacter, Serratia, Klebsiella, and Pseudomonas. The causative bacterial may reach the prostate gland from the blood stream or from the urethra. Prostatitis is commonly associated with urethritis or an infection of the lower genitourinary tract (an infection such as gonorrhea). Systemic dehydration can play an important part in decreased urinary output. This decreased urinary out put allows microorganisms in the genitourinary tract to multiply.
b. Signs and Symptoms. Included are the following:
(1) Burning on urination.
(2) Pain in the perineum, rectum, lower back and abdomen, glans of the penis.
(3) Chills and moderate to high fever.
(4) Dysuria, polyuria, hematuria.
(5) Urethritis.
(6) Urethral discharge (clear viscous to milk white discharge).
(7) Prostate enlarged, boggy, and very tender.
NOTE: In the condition chronic prostatitis, there may be no symptoms.
c. Treatment. Follow these steps.
(1) Bed rest.
(2) Balanced fluid intake.
(3) Drug therapy. Included are the following:
(a) Analgesic drugs for pain.
(b) Trimethoprim (80 mg) twice a day for 30 days OR
(c) Sulfamethoxazole (400 mg) twice a day for 30 days.
(d) For sulfa sensitive patients:
1 Gentamicin sulfate (Garamycin®).
2 Ampicillin (Polycillin®).
(4) Culture and sensitivity test of urine. This test can determine the specific drug that will combat the infection.
NOTE: Treatment will depend on the type of prostatitis present--acute or chronic bacterial prostatitis or nonbacterial prostatitis.
(5) Neither the patient nor the physician should massage or milk the penis.
d. Special Considerations.
(1) Be sure the patient understands that bed rest and adequate hydration are necessary. He may need stool softeners and sitz baths, as ordered by the doctor.
(2) Be sure the patient knows that he must take the prescribed drugs faithfully.
(3) It is important for him to know that he must drink at least eight glasses of water a day.
(4) Tell the patient to report immediately signs of possible adverse reaction to drugs, signs such as rash, nausea, vomiting, fever, chills, and gastrointestinal irritation.