CORRESPONDENCE COURSE

U.S. ARMY MEDICAL DEPARTMENT CENTER AND SCHOOL

SUBCOURSE MD0152 EDITION 100

DISEASES OF MILITARY IMPORTANCE

Throughout the history of the world, disease has been man's worst enemy. Probably the most dreadful episode in recorded history was the infamous "Black Death" epidemic of the 14th century, which was responsible for the death of one-fourth of the population of Europe. Other epidemics, though not so dramatic as the plague epidemic, have wreaked havoc upon civilizations and primitive populations as well.

When diseases are present in the general population, the hazard is even greater to armies. Because of the large numbers of soldiers who live in close association with one another--sometimes in a hostile environment and with less than desirable facilities--diseases, once started, can run rampant if they are not immediately checked.

Until World War I, disease took a far greater toll of manpower than did enemy fire. Napoleon Bonaparte, though considered a military genius, lost over 400,000 of his. 500,000-man army which invaded Russia in 1812 to disease and cold injury, while only 60,000 were killed as a result of direct battle injury. In a previous expedition in Haiti, he had lost 20,000 of a 22,000-man force to the ravages of yellow fever.

The U.S. experience has not been without similar tragedies. During the Civil War, more than twice as many men in both the Union and Confederate armies died from disease as from battle wounds. During the Spanish-American War, more than seven men died from disease (primarily yellow fever) to each man who fell in combat.

Improved medical techniques, antibiotics, and research have done much to bring disease, as a military factor, under control; however, hospital admissions due to disease and noncombat injury continue to far outweigh those due to direct battle causes. It is, thus, of the utmost importance that you know and understand the causes and means of prevention of those diseases that are of military importance.

----------------------

Length: 265 Pages

Estimated Hours to Complete: 20

Format: PDF file

Size: 1.9 MB

----------------------------

Anyone may take this course. However, to receive credit hours, you must be officially enrolled and complete an examination furnished by the Nonresident Instruction Branch at Fort Sam Houston, Texas. Enrollment is normally limited to Department of Defense personnel. Others may apply for enrollment, but acceptance is not guaranteed.



Diseases of Military Importance
Distance Learning Course
265 Pages
Est. 20 Hours
1.9 MB pdf file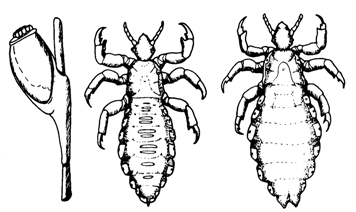 TABLE OF CONTENTS
INTRODUCTION
1 GENERAL CONCEPTS
Section I. Introduction

Section II. Communicable Diseases

Exercises
2 FOOD- AND WATERBORNE DISEASES
Section I. The Diseases

Section II. Control Measures of Food and Water-Borne Diseases

Exercises
3 RESPIRATORY DISEASES
Section I. Epidemiology of Respiratory Diseases

Section II. Troop Housing and Respiratory Disease Control

Exercises
4 INJURIES DUE TO ENVIRONMENTAL EXTREMES
Section I. Environmental Cold Injuries

Section II. Environmental Heat Injuries.

Exercises
5 ARTHROPOD-BORNE DISEASES
Section I. Introduction to Military Medical Entomology

Section II. Mosquito-Borne Diseases

Section III. Mosquito-Borne Diseases - Malaria

Section IV. Environmental Control of the Mosquito

Section V. Mosquito-Borne Diseases - Arbovirus Diseases

Section VI. Mosquito-Borne Diseases - Filariasis

Section VII. Fly-Borne Diseases

Section VIII. Flea-Borne Diseases

Section IX. Tick-Borne Diseases

Section X. Mite-Borne Diseases

Section XI. Louse-Borne Diseases

Exercises
6 PEST MANAGEMENT IN A FIELD ENVIRONMENT
Section I. Responsibilities

Section II. Organization for Arthropod-Borne Disease Control

Section III. Pest Control Operations

Section IV. Pesticides and the Environment

Section V. Insecticides

Section VI. Rodenticides

Section VII. Fumigants

Section VIII. Pesticide Safety

Exercises
7 MISCELLANEOUS DISEASES AND IMMUNIZATIONS
Section I. Viral Hepatitis

Section II. Tetanus

Section III. Zoonoses: Rabies

Section IV. Zoonoses: Leptospirosis

Section V. Immunization

Exercises
APPENDIX Food Inspection Service Guide

---------------------------------------

LESSON 1

GENERAL CONCEPTS

Section I. INTRODUCTION

1-1. PURPOSE

The purpose of this subcourse is to discuss the epidemiology, and the control of diseases of actual or potential military importance. The viewpoint is that of the commander and his medical advisors in a war or preparation for war setting.

·

The commander has an interest in the health of individuals and groups making initial entry into the Army.

·

The commander is interested in the threat to troops from disease endemic or epidemic in areas of the world that is actual or potential battlegrounds or training grounds.

·

The commander is interested in non-effectiveness and lost time because of diseases his command is likely to experience under various circumstances.

·

The commander's interest is clear-cut, because his responsibility for the health of those under his command is clearly defined.

·

Peacetime incidences and experience rates are important considerations, too, in that communicable diseases, which cannot be eliminated or effectively controlled in peacetime generally, are the ones most likely to become epidemic in war.

1-2. DISEASE AND INJURY IN WARTIME

History shows that disease and injury, as military problems are factors for which the military leader must plan. In Table 1-1, the periods of war listed were ones in which combat was the heaviest. In spite of these concentrated fighting periods, hospital admissions for disease and non-battle injury far exceeded admissions because of hostile action of the enemy. Furthermore, experience reveals that hospital admissions for disease usually exceed hospital admissions for non-battle injury and battle injury combined. For example, of the 81.8 percent hospital admissions for disease and noncombat injury in Vietnam in 1969, only 13.7 percent were for nonbattle injury and 68.1percent were for disease.

1-3. PREVALENCE OF DISEASE IN PEACETIME

Prevalence of disease in peacetime serves as a baseline against which to estimate probable wartime incidence and attack rates. Acute respiratory infections often account for about one-third of the disease admissions among active duty Army personnel.

Normally, the second most frequent cause of admission is nonbattle injury. Diseases of the digestive system account for about 10 percent of admissions. Often mild cases of illness are not seen by the medical service, and asymptotic infections go unreported. This is known as the "iceberg effect."

From Diseases of Military Importance