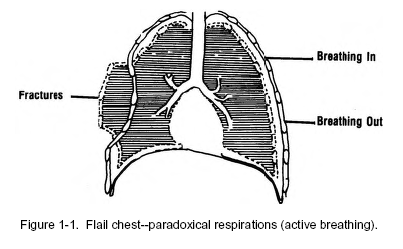 TABLE OF CONTENTS
INTRODUCTION
1 CHEST TRAUMA
Section I General Information About Chest injuries.

Section II Specific Chest Injuries

Section III Chest Decompression

Exercises
2 AIRWAY MANAGEMENT
Section I Esophageal Obturator Airway

Section II Endotracheal Tube

Exercises
3 CRICOTHYROIDOTOMY
Section I General Considerations

Section II Needle Cricothyroidotomy

Section III Surgical Cricothyroidotomy

Exercises
-----------------------------------------------------
LESSON 1
CHEST TRAUMA
Section I. GENERAL INFORMATION ABOUT CHEST INJURIES
1-1. INTRODUCTION
Chest injuries are of major importance because they are a common cause of death. Fifty percent of the people who expire from chest injuries die on the way to the hospital. The common causes of penetrating and nonpentrating chest injuries include automobile accidents, falls and blows, gunshot wounds, stab wounds, and crushing injuries. In a chest injury, there is a possibility of internal bleeding and/or direct injury to the heart or lungs; therefore, any chest injury may be serious. Chest decompressions, field functions, and other procedures may be used to save the casualty's life if they are performed correctly and in a timely manner. With specialized training and prescribed methods of treatment for various chest trauma, your ability to recognize and react quickly in each situation is an important factor in regard to whether the casualty survives.
1-2. COMMON SIGNS/SYMPTOMS OF CHEST INJURIES
The common signs and symptoms of chest injuries are:
a. A change in normal breathing pattern.

b. Pain at the site of the injury.

c. Dyspnea (shortness of breath).

d. Failure of the chest to expand.

e. A rapid/weak pulse.

f. Low blood pressure.

g. A dry cough or blood.

h. A sucking sound on respiration.

i. Cyanosis (bluish discoloration of the skin due to lack of oxygen).

j. Hemoptysis (spitting of blood from lesions in the larynx, traches, or lower respiratory tract).
1-3. COMMON TREATMENT FOR CHEST INJURIES
Regardless of the type of chest injury, initial treatment is almost always the same. Begin by examining the casualty to detect the chest injury.
a. Question the casualty, if he is conscious, to see if he has difficulty in breathing.

b. Observe the casualty's bare chest and upper abdomen for respiratory rate and depth.

c. Check for equal movement of both sides of the casualty's chest.

d. Examine the entire chest wall (including the back) beneath any overlying clothing.

e. Listen to the casualty's chest with a stethoscope. Listen to both sides of the chest, comparing both sides for volume, loudness, and equality.
1-4. TYPES OF CHEST INJURIES
a. Penetrating Injuries. A penetrating injury may be a hole in the thoracic cavity that allows air inside the thorax, the air filling the thoracic cavity (pneumothorax). A penetrating injury may cause blood to flow into the thoracic cavity (hemothorax), filling the thorax with blood.

b. Blunt Injuries. These are blunt injuries: rib and sternum damage; flail chest; and cardiac contusion.

c. Results of Penetrating/Blunt Injuries. Penetrating and blunt injuries can cause considerable damage. Both types of injury can cause air to build up outside the lung in the thoracic cavity, and the individual has simple pneumothorax. The pressure has not been great enough to cause the lung to collapse. A blunt injury or a penetrating injury may cause air to build up to such great pressure in the thoracic cavity that the lungs collapse. Tension pneumothorax is the name of this condition.
1-5. GENERAL PRINCIPLES OF TREATMENT FOR CHEST TRAUMA
Follow these general principles in treating for chest trauma:
a. Maintain normal pleural pressure by the use of suction devices throughout the treatment. Keep the pleural space empty by using suctioning devices such as hemovac or pleuralvac. Monitor the suctioning device frequently, regardless of which device is used.
b. Monitor the casualty for pericardial tamponade. This condition, which will be discussed later, is caused by penetrating chest wounds such as gunshot wounds or stab wounds. The result of the condition can be diminished cardiac output and finally death; therefore, it is extremely important to watch for signs of pericardial tamponade in the person.
c. Keep the bronchial tree clear of retained blood, foreign material, and bronchial secretions by using suction as needed.
d. Give oxygen to maintain adequate oxygenation and removal of carbon dioxide. If oxygen administered by nasal catheter is inadequate, use tracheal intubation, cricothyroidotomy, or controlled positive breathing.
e. Estimate the amount of hemorrhage the casualty has, and replace the blood as necessary.